The World's Most Influential CMOs
Data: 2019 m. vasario 18 d.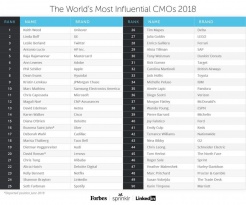 The chief marketing officer has become one of the most important, and indeed, influential, executives in the C-suite.
CMOs uniquely represent the voice of the customer, the deep understanding of whom is critical to business success today. Meanwhile, the CMO role's scope and complexity is much broader than it has ever been. No longer mere functional heads and custodians of ad campaigns, CMOs today must be adept at and conversant in a variety of skills, expertise and business understanding. CMOs today wield influence that is helping to move organizations, spur innovation, drive business growth and shape cultural narrative as never before.
Forbes unveils its latest World's Most Influential CMOs report, a comprehensive look at the individuals who are the best at driving transformational change within and outside their organizations. Today's CMOs are some of the most multidimensional, strategically savvy, creatively innovative and, yes, challenged executives in the C-suite. In uniquely owning the voice of the customer, they are architecting customer experience, digital transformation and industry innovation—even as they navigate the increasing complexities and expectations of their role. We took a look at the leaders in this regard, those most influential CMOs who are driving change at various levels within their organizations, lending their voices to broader industry conversations, and articulating core brand and business purpose and sharing perspective on cultural issues as they seek to drive business growth. Topping that list for the second year in a row is Keith Weed, chief marketing and communications officer at Unilever.
Skaitykite daugiau Forbes.