New Research Shows How Consumers Want Brands to React to the Pandemic
Data: 2020 m. gegužės 04 d.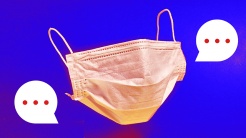 Agility and transparency are critical now and will define your future value.
Consumers aren't interested in engaging with brands that are tone-deaf to the global crisis. As they adapt to a new daily reality, they expect brands to do the same.
This means that marketers must reevaluate ad campaign strategies, messaging and budgets accordingly, and above all, deliver transparent and thoughtful communications to their customers.
To get a better understanding of how consumers are viewing social advertising right now, Smartly.io asked U.S. adults what they're seeing across social media platforms and how that's impacting their opinion of brands.
This research found that consumers are already noticing a shift in marketing strategies. More so, they're open to the change in messaging—83% said they want brands to address the pandemic directly in their communications.
How your brand approaches today's crisis will define its public perception for months and years to come. For marketing teams looking to use this time to build meaningful relationships with consumers, here are three key findings to consider.
Consumers are spending more time scrolling
Social media consumption is at an all-time high, and brands are increasingly using social channels to communicate with their customers. The study found that the most popular platforms are visually driven. A majority (79%) of respondents are using Facebook, 46% are using Instagram and 44% are using YouTube. It also found that the most popular ad formats are video ads (29%) and photo carousels (27%).
That said, brands should prioritize thoughtful and authentic copy and creative that grabs attention and speaks to the situation. During a time when people are more likely to engage, it's important to optimize ad real estate with strong creative content to increase both engagement and brand loyalty.
Address the situation
Adapting to the situation, being transparent and addressing consumer concerns head-on has proved to be the best approach for brands. Almost half of respondents (46%) said they are more willing to engage with ads because of the pandemic. Don't let this opportunity go to waste.
Specifically, a vast majority (83%) of respondents said they would like to see brands react to the pandemic in their advertising with messaging about preventative measures like social distancing (28%), products that are useful to the stay-at-home economy (31%) and philanthropy (24%). Your role in the market after the pandemic depends on how well you help your customers through their current challenges.
With a growing humanitarian mindset around the world, consumers are more likely to invest in brands that are purpose-driven and committed to combating the pandemic. Brands are taking this shift in stride—38% of survey respondents said they saw more ads from brands telling them to stay inside in the last 30 days and another 37% noted seeing more ads from brands related to health and wellness.
Read more "Adweek"