How the pandemic prepared 5 companies for a more customer-first future
Data: 2021 m. birželio 08 d.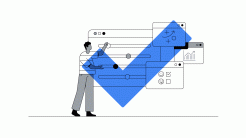 In the nearly 15 months since COVID-19 was declared a pandemic, life has changed incalculably. Most of us tore up our best-laid plans — both personal and professional — and gained a far deeper understanding of what it means to adapt.

Globally, we've seen massive shifts in how people interact with businesses. Buying behavior changed drastically, as customers went online to explore, research, and plan more of their purchases. The new reality during the pandemic forced many brands to radically change their marketing strategies; others accelerated strategies that were already underway. As the world's largest retailer, Walmart serves approximately 220 million customers and members globally each week. So when consumers worldwide faced pandemic-related financial hardship, the company's mission — helping people save money so they can live better — became more critical than ever. To meet shoppers' changing needs, Walmart accelerated and expanded its existing curbside pickup, pickup in-store, same-day delivery, and in-home delivery services. And to further streamline customers' online shopping experience, the company combined its once-separate grocery and shopping apps.
Without knowing what a "new normal" would look like, these companies prioritized meeting their customers' needs by investing in first-party data and automation. While we can't predict what challenges lie ahead, finding new approaches that put customers at the heart of your business is a great way to ensure that you're ready for whatever comes next.
Daugiau skaitykite: "Think with google"