15 Mind-Blowing Stats About Emerging Technology In 2020
Data: 2020 m. vasario 24 d.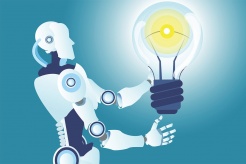 One day these statistics might write themselves.
And why not? Artificial intelligence (AI)-powered platforms are already helping organizations improve the effectiveness of their content. They are also creating more seamless creative workflows.
We stand in awe of what technologies such as AI have already accomplished. Ditto for the brands embracing them. We now take a look at what's ahead. New features, functionalities, and categories of tech are emerging all the time—and with each advancement, a world of new opportunities. 
1. In 2021, AI augmentation—a human-centered partnership model where people and AI work together to enhance cognitive performance, including learning, decision making, and new experiences—will create $2.9 trillion of business value and 6.2 billion hours of worker productivity globally. (Source: Gartner)
2. By the end of 2020, addressable TV advertising—the ability to show different TV commercials to different households while they are watching the same program—is expected to grow to over a $3 billion segment of TV advertising. That's a 343 percent increase over 2016. (Source: Video Advertising Bureau)
3. A whopping 91% of business makers plan to increase their investments in voice technology this year. Brands see incredible potential: 66 percent strongly agree that voice can help drive conversion and increase revenue, and 71 percent say it can improve the user experience. (Source: Adobe)
Read more "CMO by Adobe"